Rise and Dine at the most southernly point of our journey on The First Hundred Miles of Route 66 here in Pontiac, Illinois. You've got a lot of great food to choose from and here are just some of our favorites so let's get started!
ACRESinn Market-Café and Restaurant
107 West Madison Street, Pontiac
815-314-0764
If fresh, honest ingredients like in-house bread and pickles are what you're looking for, then head over to the eclectic ACRESinn, arguably the smallest café in Pontiac. Responsibly sourced producers provide other menu items like coffee and 'damn good beer.' Huge sandwich selection as well as salads, some Tex-Mex and don't forget the 'Boozy Milkshake' for adults only! Currently diners place orders at the window and dine outside in the dedicated seating area, but by the time you're reading this, plans for opening indoor, sit-down service may be a reality. If the adult milkshake or draft beers have made their mark, there's a two bedroom, 1,800sq ft loft for rent upstairs for the ultimate dining-then-napping convenience!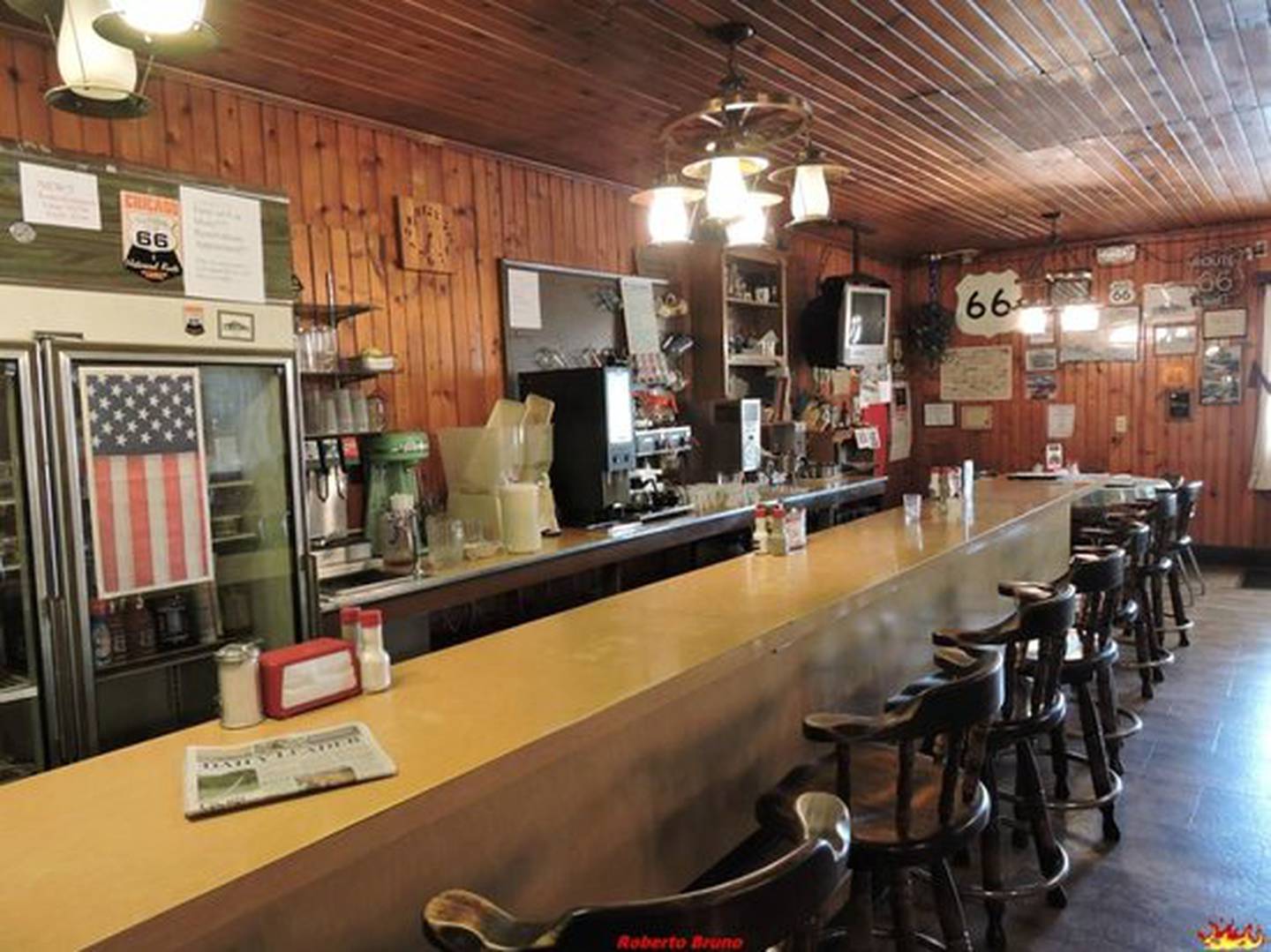 Old Log Cabin
18700 Old US Route 66, Pontiac
815-842-2908
When you see an actual log cabin, you'll know you've reached your destination where no group is 'too large or too small.' Your busload of travelers can pre-book a special 'Group Menu' that includes a full meal with all the fixings plus dessert for one flat fee but you'll need to call at least 60 days in advance to get this great rate. Visit them online or FB for their daily, home cooked specials and fool the kids with their menu in Chinese, a plus for our foreign guests. Full Bar, always delicious, families welcome. Don't miss the interactive Route 66 Kiosk outside.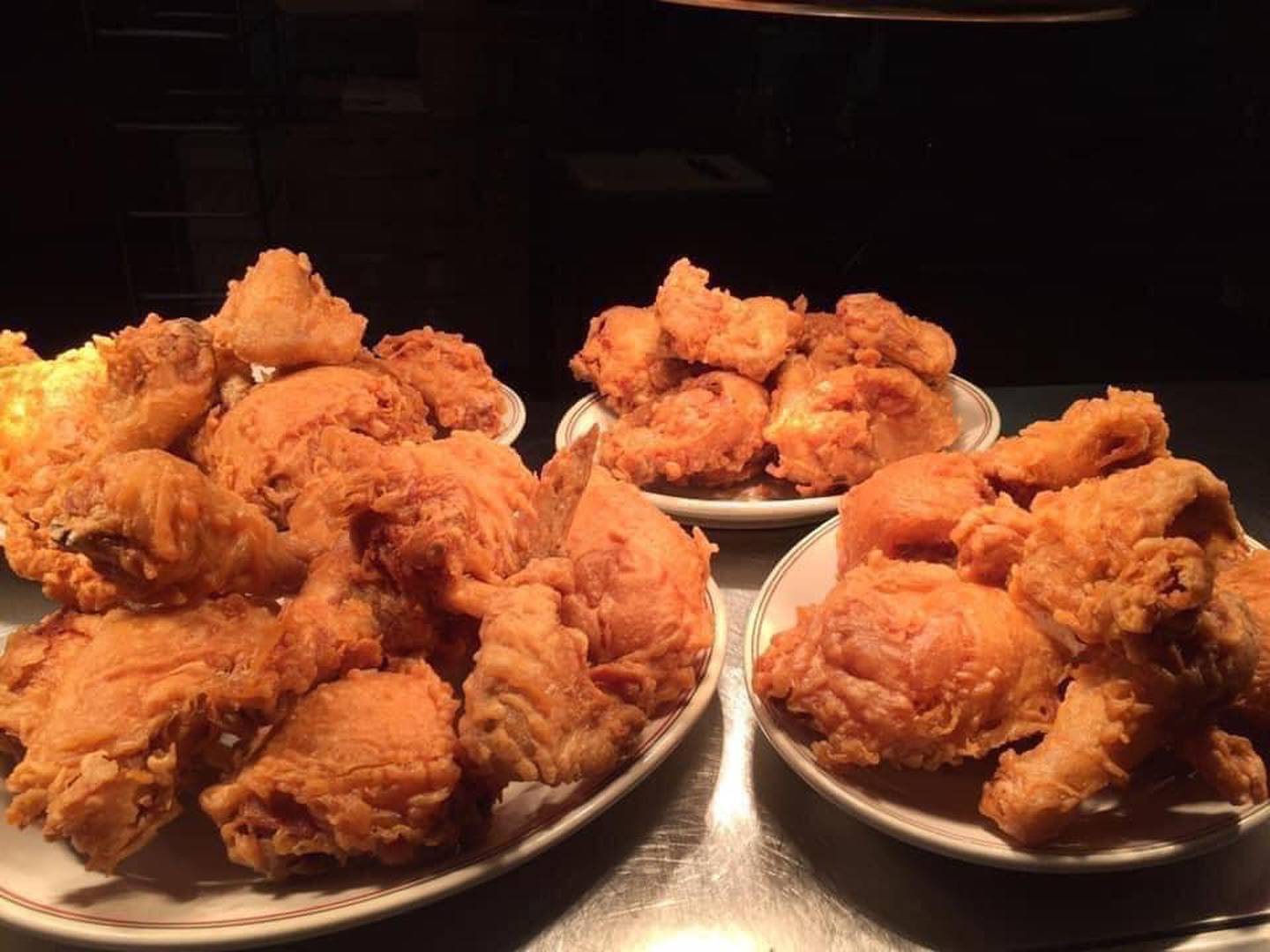 Bernardis ll
123 North Mill Street, Pontiac
815-842-1198
Looking for a 1930′s throwback supper club? Then look no further than Bernardis II that has been serving up Italian-American fare by the same family since 1933. Famous for their supermarket brand of Monas northern Italian pastas, this 3rd generation remains true to its roots producing dishes that locals and travelers alike have come to know and love. Menu favorites include steaks, chops and chicken, but order anything 'family style' and they'll add a side of spaghetti and ravioli to your dish. Build a sampler meal by adding a half slab of ribs, homemade Italian sausage or side of spaghetti with sausage in red sauce to any entrée. Located in downtown Pontiac near many of the attractions with convenient parking and no step-up access. Beautiful turn-of-the-century bar.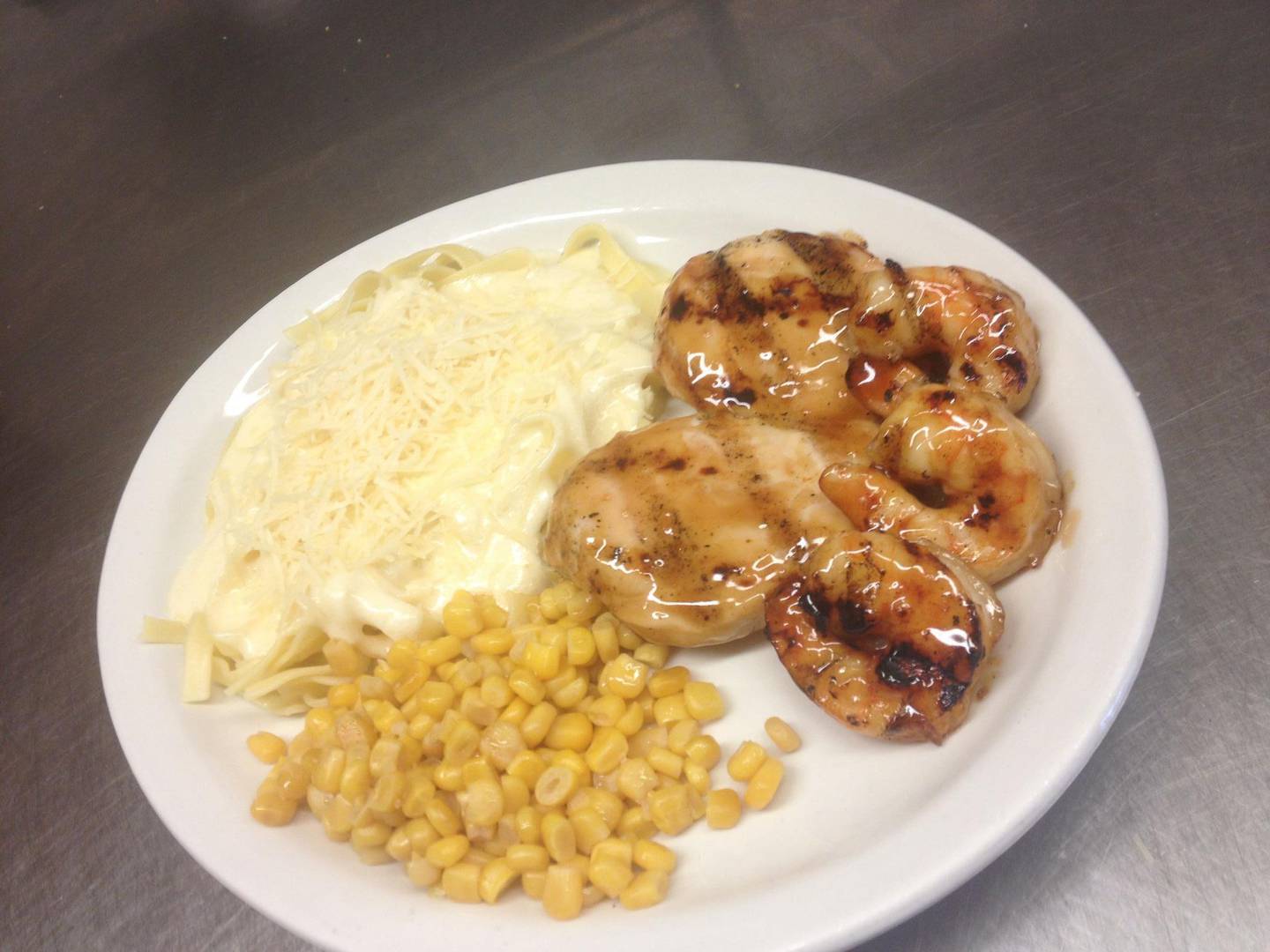 David's Food and Spirits
624 West Howard Street, Pontiac
815-842-0326
Next to the tracks in an unassuming, re-purposed dry goods store, you'll find David's Food and Spirits. Visit this local favorite twice and you'll become part of the family. Enjoy steaks and chops or check out their array of beef, pork and chicken dishes. And if you're hungry for seafood, it's always on the menu, plus more on their daily specials list. You'll find cod, salmon, crab cakes and shrimp plus 'the best seafood fettuccine around.' Friendly, casual dining with comfy booths and excellent service.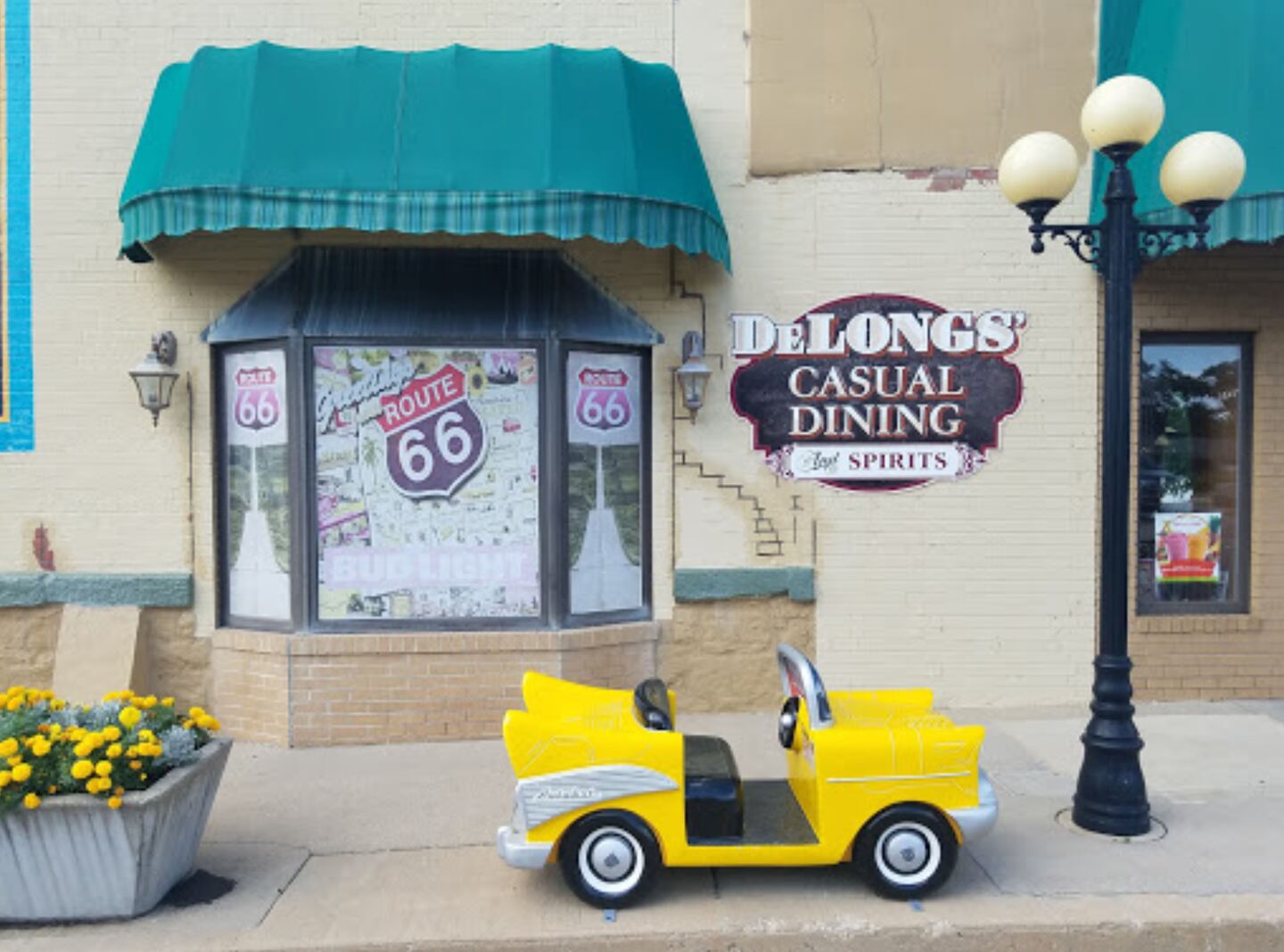 DeLongs Casual Dining & Spirits
201 North Mill Street, Pontiac
815-844-1983
Located in an historic corner building on Pontiac's sunny town square, you'll find DeLongs Casual Dining & Spirits. Known for their house garlic & butter sauce, you can have the same treatment on a burger or steak paired with seasoned fries or a twice baked for a unique taste combination. Menu features something for everyone from homemade soups and appetizers to entrée size salads and sandwiches. Enjoy a Route 66 pop in a variety of flavors and don't forget dessert. Their baked goods topped with ice and whipped cream are a sight to behold! Nice outdoor seating area weather permitting.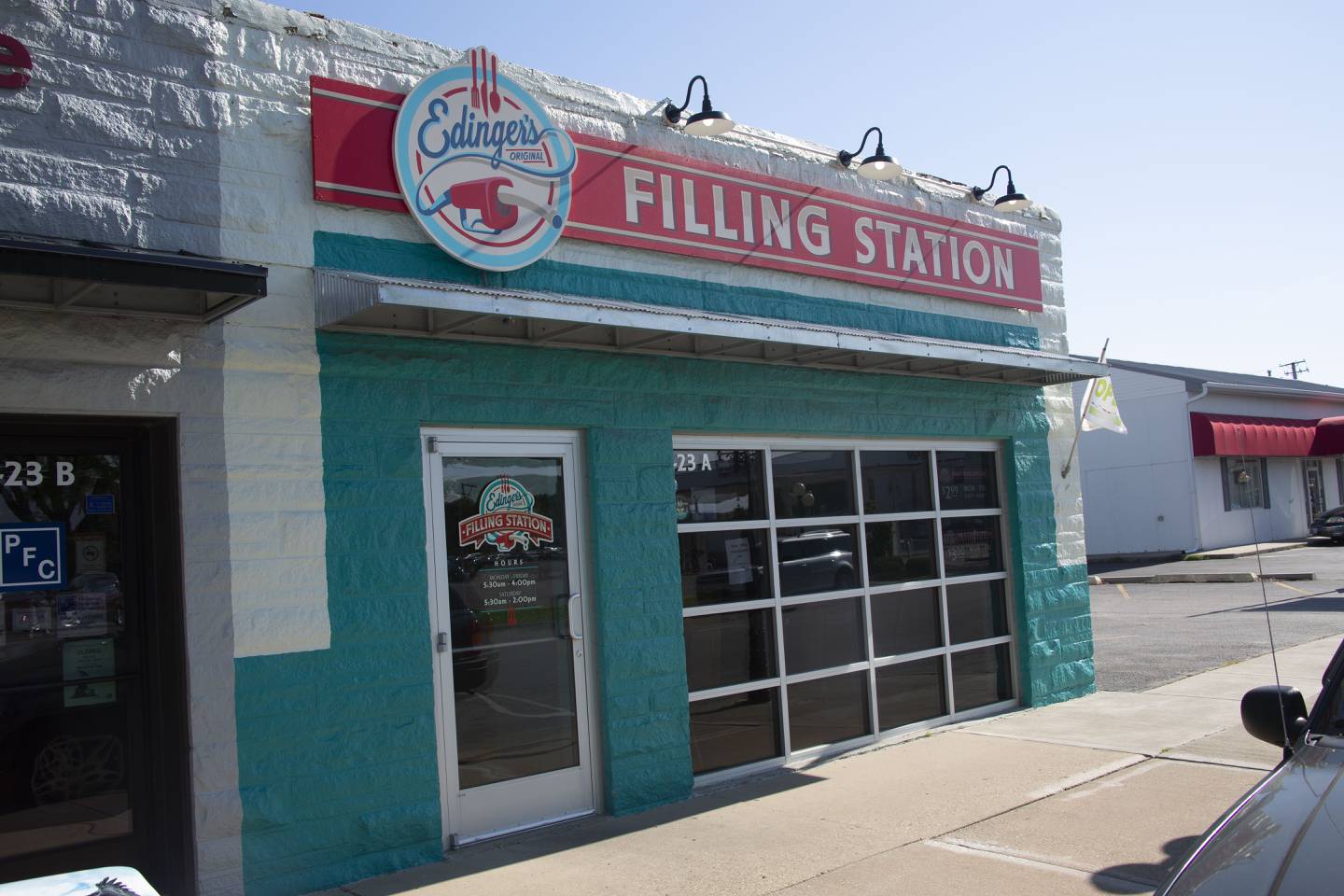 Edingers Filling Station
423 W Madison St, Pontiac
815-419-2255
Originally a small garage complete with overhead door, Edingers is now filling up hungry visitors instead of vehicles. This popular breakfast- lunch-brunch place starts hopping at 6:30am to get you 'tuned up' for your busy day. Build-your-own omelets and 'the best biscuits and gravy' have been making its way to the plate of hungry diners for three generations of cooks. But no worries! If sleeping in is your thing, you can brunch and lunch your way through to 2pm on weekdays. Cute menu lists coffee offerings as 'leaded and unleaded fuels' and traditional sides of potato salad and macaroni and cheese can be found under 'accessories.' And remember the family's theme…'Thanks for eating here otherwise we'd both starve!'-The Edingers!