The second edition in our series in search of the best tubed meats, self-proclaimed hot dog aficionado and former airline steward, Paul Havelka has done all of the legwork for you. Tasting hundreds if not thousands of encased meats in his 40+ years of research, these are just some of what he considers to be the best.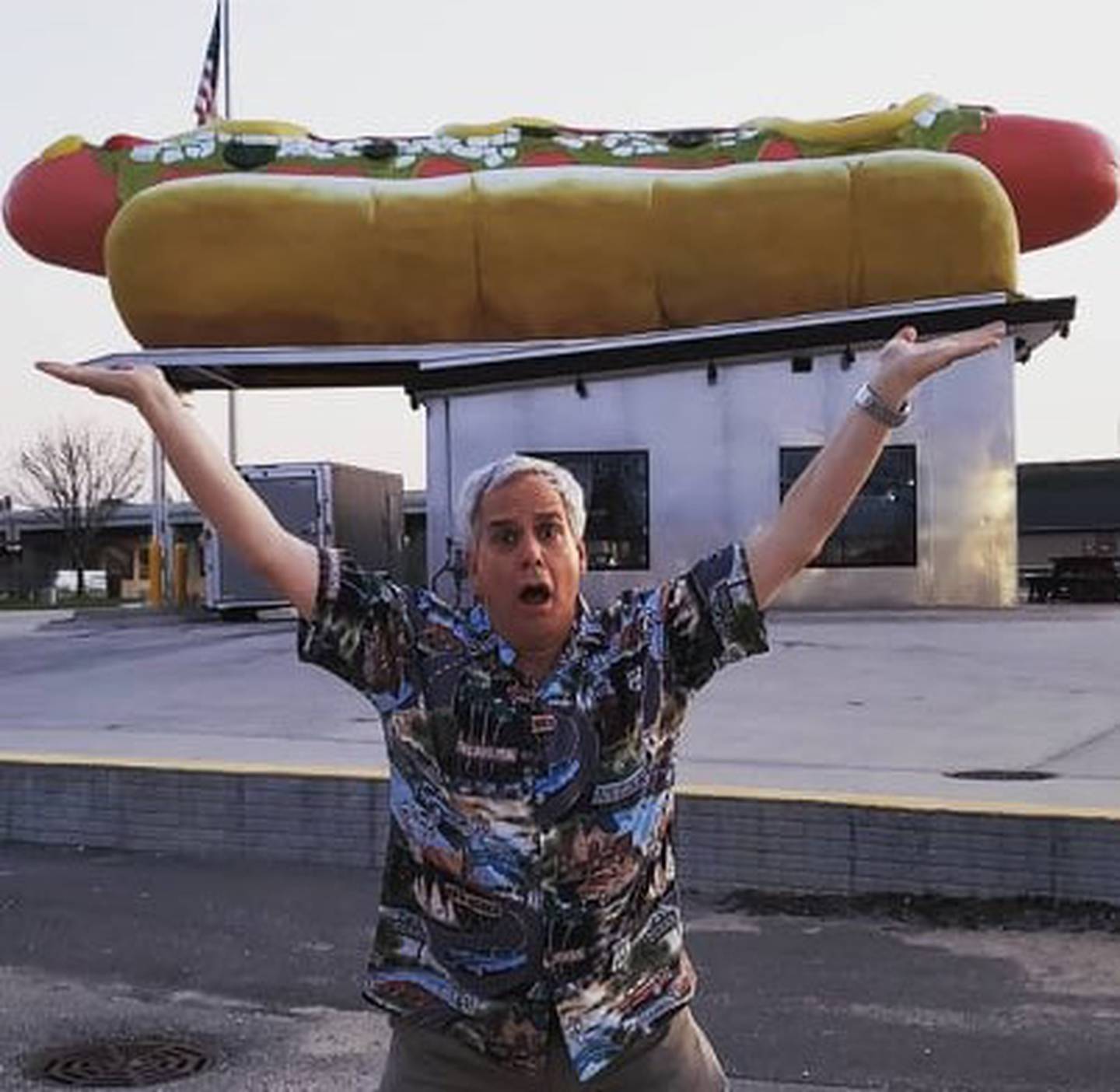 Listed north to south (and east to west,) you can plan your own hot dog discovery and pick your favorites all along The First Hundred Miles of Route 66. Starting just outside the city, also known as Ogden Avenue, your adventure begins!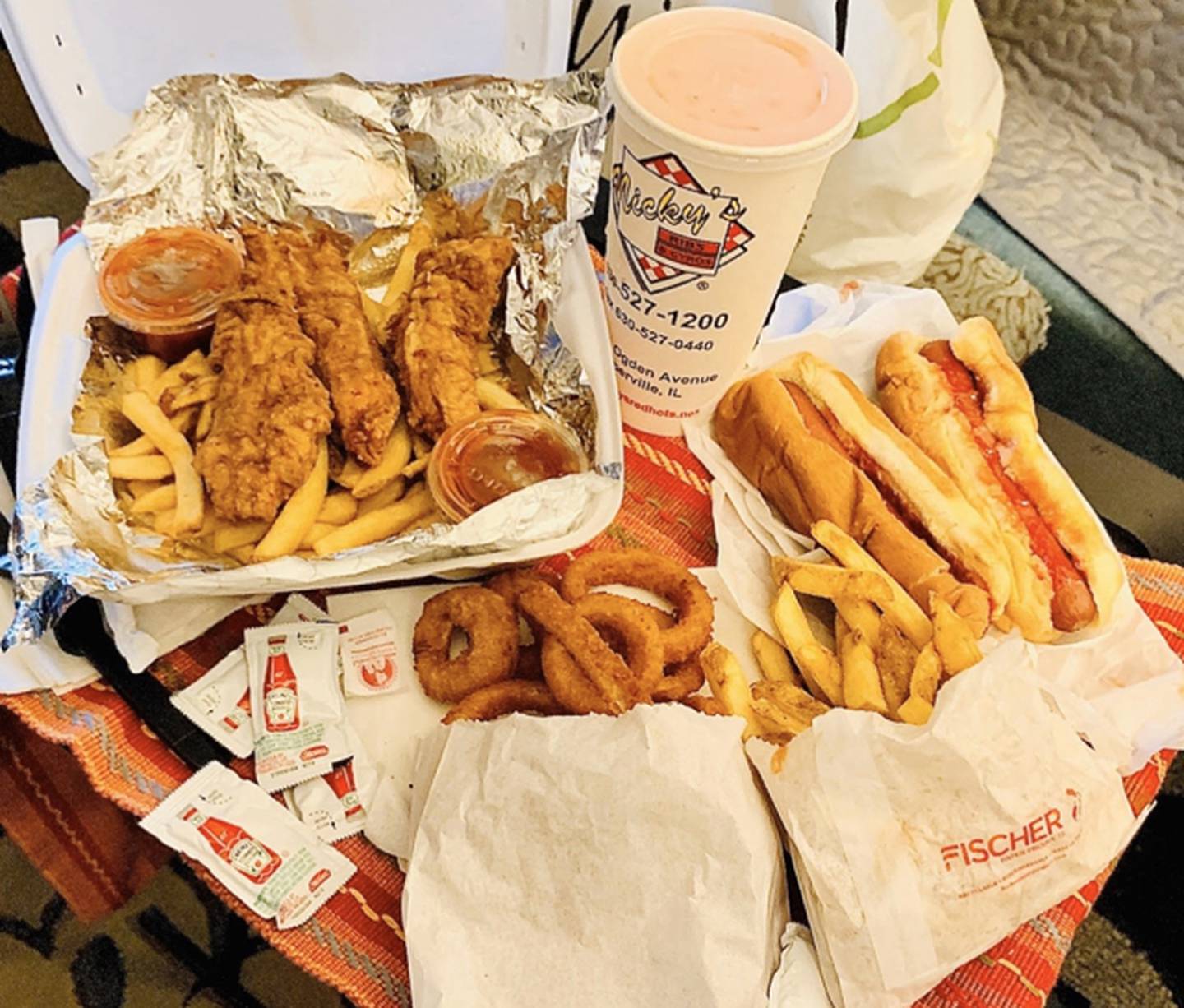 1. Nicky's Red Hots
335 E Ogden Ave, Naperville, IL
630-527-1200
Counter service with a clean and comfortable interior, Nicky's has one of the biggest menus on our list. From soups and salads to 3 different kinds of homemade gyros and a jumbo hot dog, there's something for everyone to enjoy. Family packs, sandwich combos and hot Greek specials round out the selections.
Dogs come 'Maxwell Street Style,' (grilled onions, yellow mustard, sport pickles...some opinions vary) or 'dress it like a dog' and get it your way. Greek desserts are a nice surprise as well as the kid's menu. Serious food from seriously nice people.
2. Jimmy's Dog House
217 W Ogden Ave, Westmont, IL
630-963-8203
When the menu offers 6, 12 or 24 packs of dogs, you know you've come to the right place. Classic Chicago condiments come standard on these red hots. Try the beef and sausage combo or grab a gyros or two to keep your dog company.
Cool purple and yellow exterior means you can get some great selfies and make your friends jealous. Convenient drive-thru, friendly service and reasonable pricing keeps visitors and locals coming back for decades!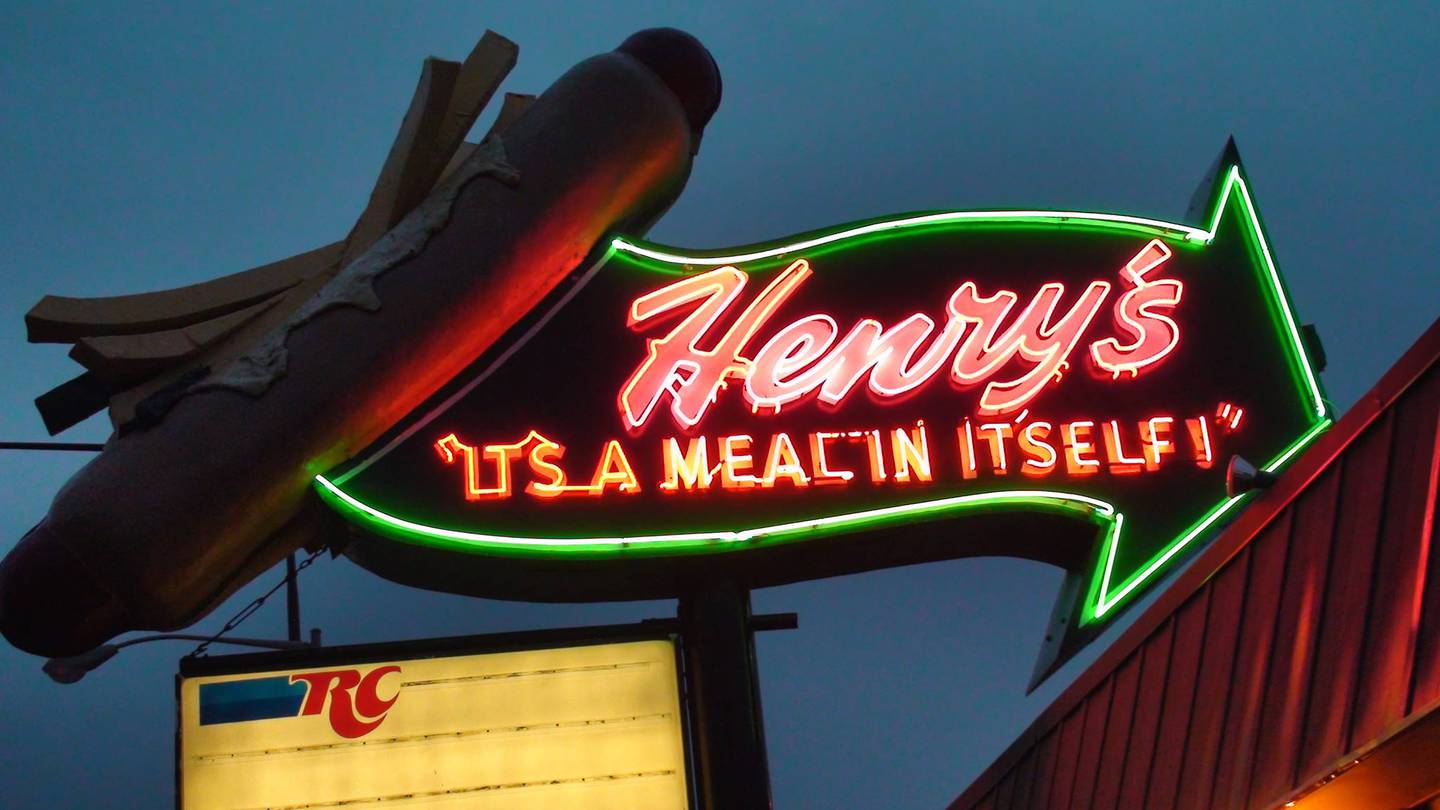 3. Henry's Drive-In
6031 Ogden Ave, Cicero, IL
708-656-9344
One block west of south Austin Boulevard and Ogden Avenue (Old Route 66) you'll find Henry's Drive-In that's been serving up Chicago style dogs since the 1950′s. Look for the throwback neon sign proclaiming 'Henry's...It's A Meal In Itself' topped by a giant red hot makes for a great Route 66 selfie.
Americana at its best offering all the classics; Hot Dog, Double Dog, Chili Dog, Polish, Tamale-On-A-Bun, BBQ Beef, Italian Sausage and much, much more. Unique items with a nod to the past include the Pepper-n-Egg Sandwich and Gravy Bread appetizer. This is as authentic as it gets along the Mother Road.
4. Novi's Beef
6746 Ogden Ave, Berwyn, IL
708-749-0895
Known for their famous Italian Beef, hot dog lovers have discovered their favorite food on the menu here at Novi's too. Established in 1960, this larger, new and improved building still features their famous, all stainless-steel interior, keeping that Route 66 Retro feel going.
Classic hot dogs, double dogs, chili dogs and Polish round out the menu. Homemade desserts, food by-the-pound and even vegetarian options. Visit them online for their holiday specials and shipping throughout the USA.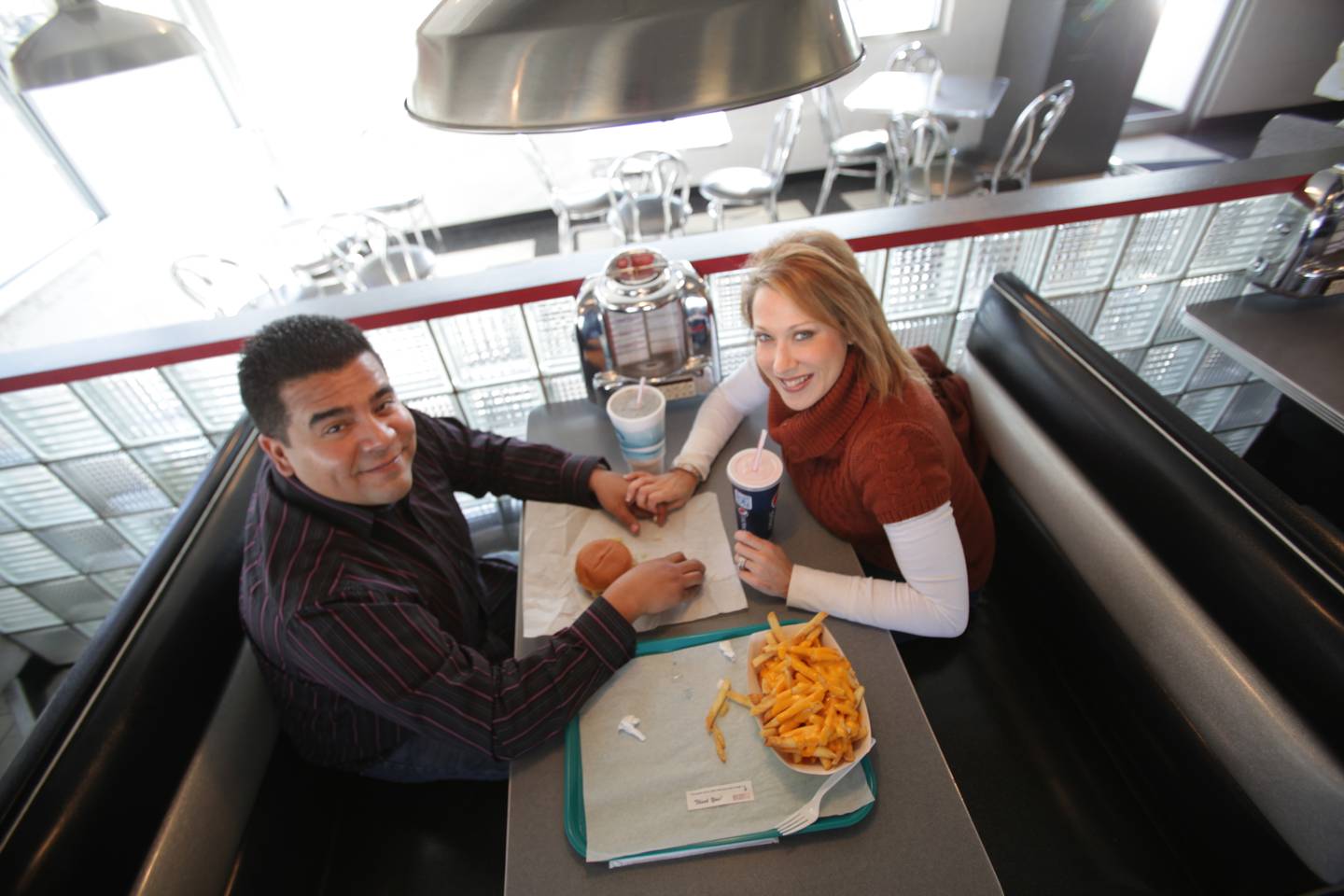 5. The Polka-Dot Drive Inn
222 N Front St-Braidwood, IL
815-458-3377
When you spot Jake and Elwood Blues dancing on the roof, or you're sure you saw a 16ft Elvis out of the corner of your eye, then we guarantee you've reached your destination here at The Dot. Hot dog, cheese dog, chili dog, chili cheese dog and polish sausage are just some of the red hots offered on
this extensive menu. Classic American fare like chili cheese fries, fish and chicken dinners plus mashed potatoes and gravy ensures that every member of the family will find something they love. Follow them online for monthly specials like 'milkshake Mondays' and 'half priced hot dog Tuesdays' throughout the year. Great selfie stop.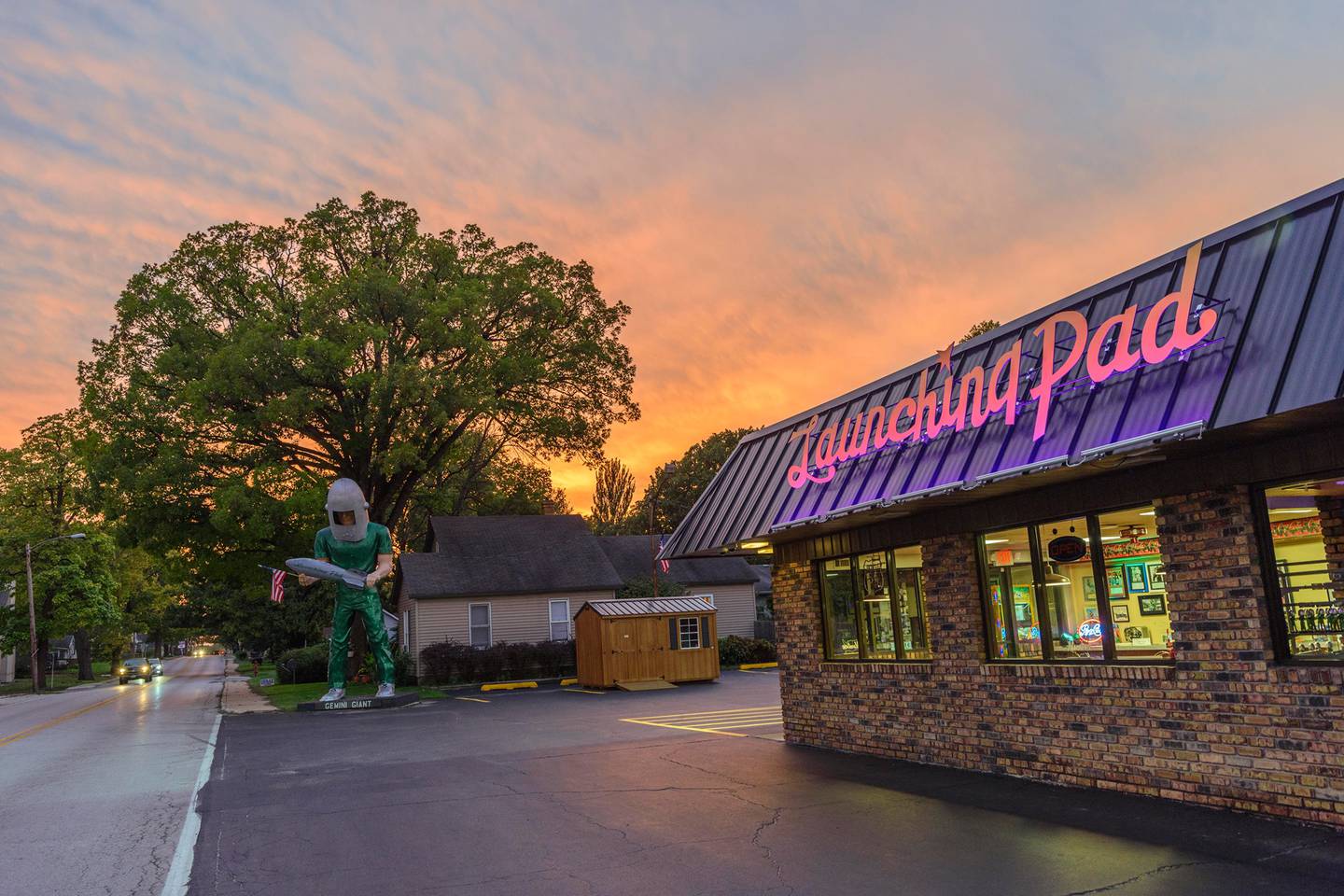 6. The Launching Pad Home of the Gemini Giant
810 E Baltimore St-Wilmington, IL
815-476-6535
When the owners are graduates of the famed Vienna Beef Hot Dog University, you know they're not fooling when they say they've got the best, all beef that money can buy. Complete with the classic 'neon green' relish and poppy seed bun, you'll love perusing their extensive 'dog' menu translated into 6 different languages.
Pair your meal with their 1lb milkshake and you have the best of what the Mother Road has to offer. Beautiful renovation and relaunch May 2021 saved this iconic location that could have been lost forever. Look for the 28ft tall green Gemini Giant and you'll know you're in the right spot and don't forget your Giant Bobblehead!