Long before major thoroughfares like Interstate 80 and Route 66 passed through Joliet, this lively city of industry welcomed scores of travelers along the storied Illinois and Michigan Canal. Nestled on the banks of the DuPage and Des Plaines rivers, with a half-dozen smaller waterways criss-crossing the city, Joliet quickly became a major hub for transportation and manufacturing in Illinois, earning it the nickname "The Cross-Roads of Mid-America."
Delve into the history of the I&M Canal and some of the residents who lived nearby and traveled along it by visiting a series of silhouette statues located across all of the canal towns. You'll spot life-sized COR-TEN steel silhouettes of notable historical figures who shaped the waterway and the surrounding communities. These glimpses into the past provide little-known historical insight into day-to-day life and history-altering events that took place around the era of the I&M Canal. Join us as we explore some of the historical markers and interpretive signage you'll find in Joliet.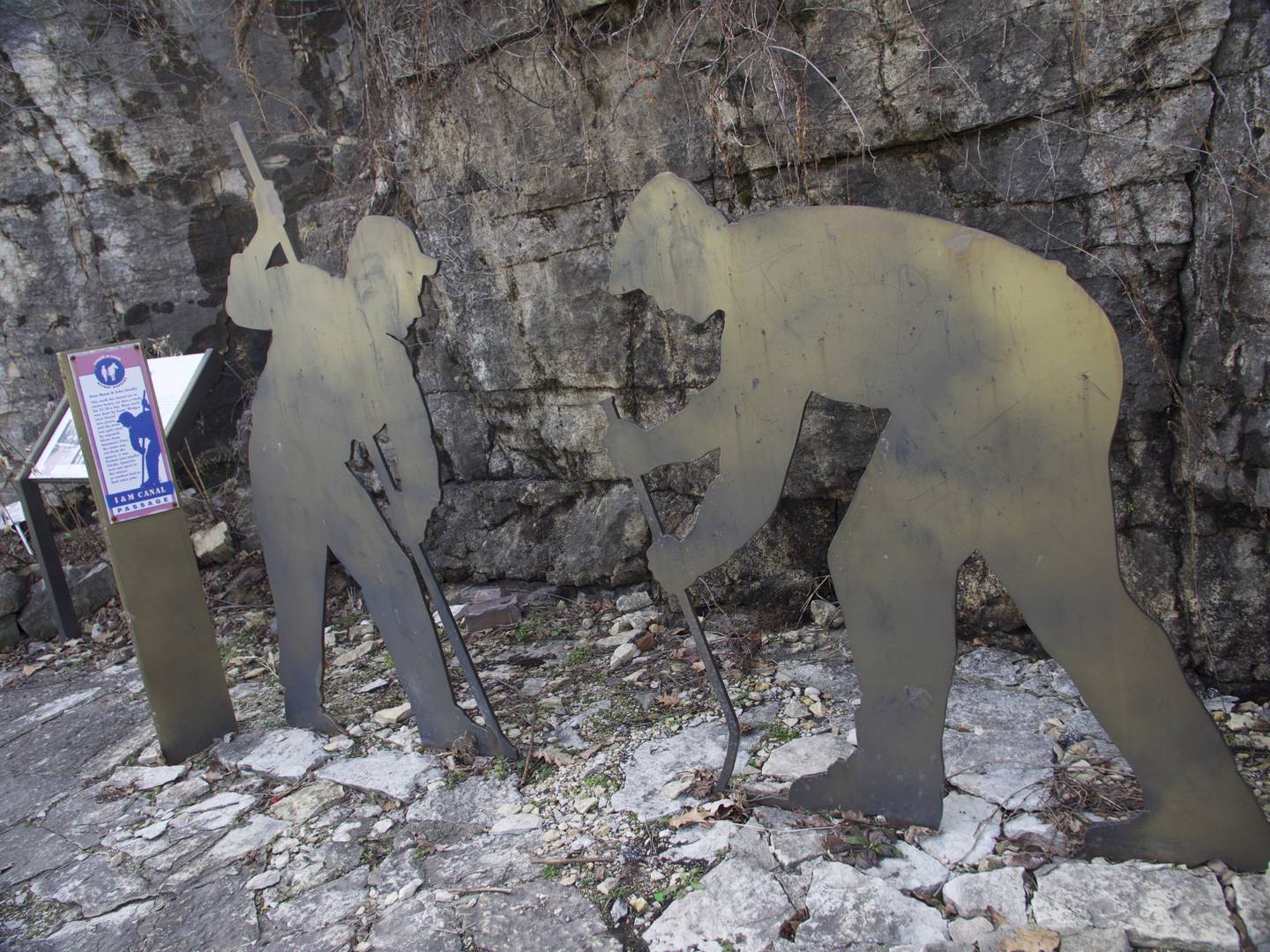 Peter Baum and John Stender, Quarry Workers - Billie Limacher Bicentennial Park
"Hundreds of immigrants toiled in Joliet's many quarries. The Irish were the first to come to Joliet, but by the 1860s, many laborers were German, including many young men in their twenties. Among them were John Stender and Peter Baum, both in their 20s."
Francis Hoffman, Mason - Billie Limacher Bicentennial Park
"In 1860, Hoffman worked as one of Joliet's many stone masons. Born in Holland, the 40-year-old Hoffman first came to Wisconsin before moving to Joliet. His wife, Agnes, also was born in Holland, but their four children were born in the U. S. Stonemasons took the quarried limestone and transformed it into magnificent buildings, many of which are still part of Joliet's landscape."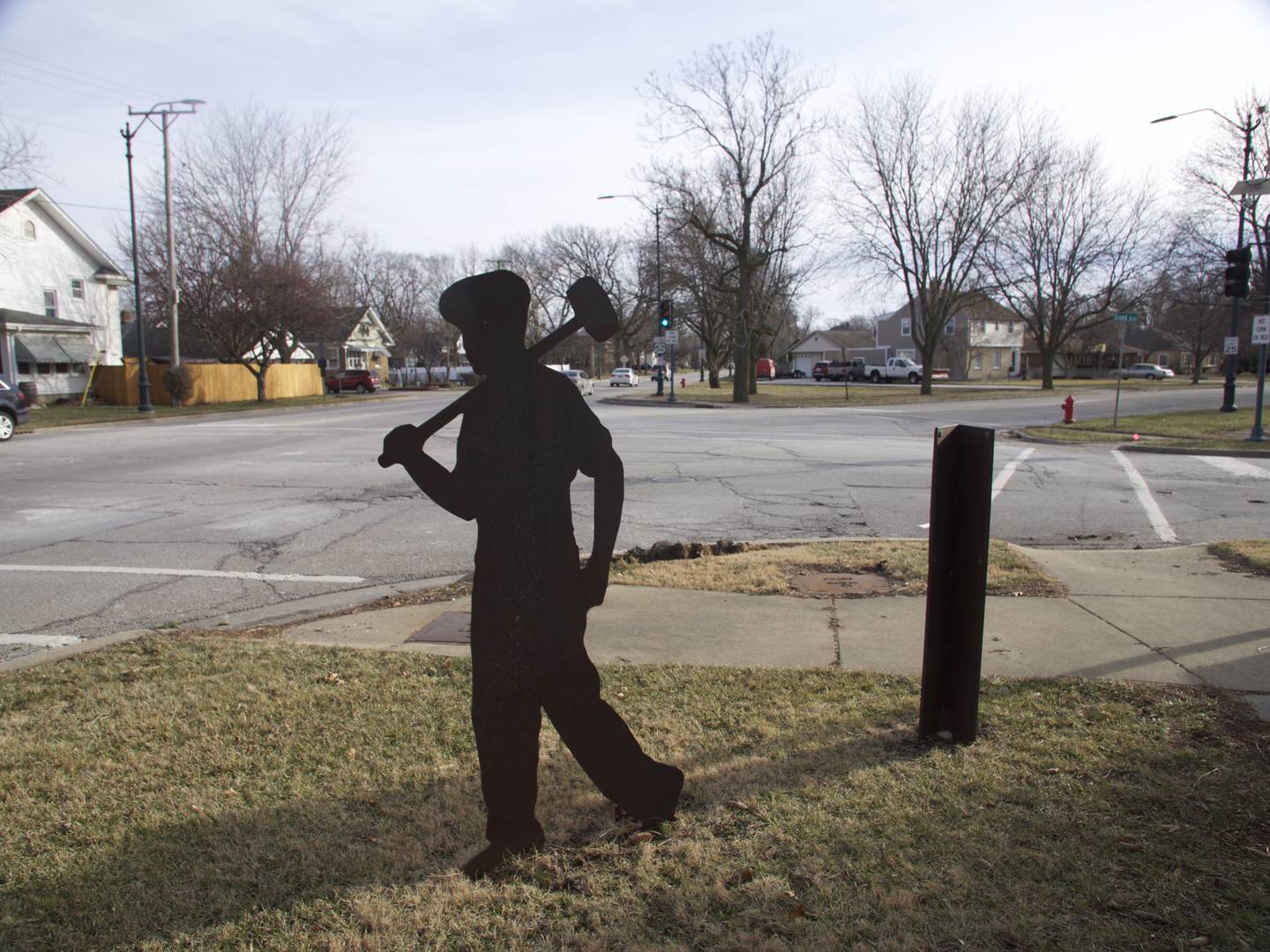 Lester Ward, Renaissance Man - Billie Limacher Bicentennial Park
"The last of 10 children, Lester Frank Ward (1841-1913) was born in Joliet at Joliet and Benton streets. His father owned a quarry at what is now the site of the Illinois State Penitentiary, but Ward lived in Joliet only a short time. A true Renaissance man, Ward was wounded in the Civil War and took degrees in law and medicine, but gained lasting fame as a paleontologist and sociologist."
Sophia Demmond, Philanthropist, The Grand Old Lady of Joliet - Billie Limacher Bicentennial Park
"Sophia Murray (1804-1895) married merchant Martin Demmond in New York in 1831, and they were among Joliet's earliest residents when they arrived in 1834. The Demmonds built Joliet's first stone building from limestone quarried from the bluffs. They lived on the third floor, and operated a general store on the first floor. Less than 50 people lived in Joliet during the winter of 1834-1835. The Demmonds were supporters of educational efforts, and they helped fund the construction of the first school building in Joliet."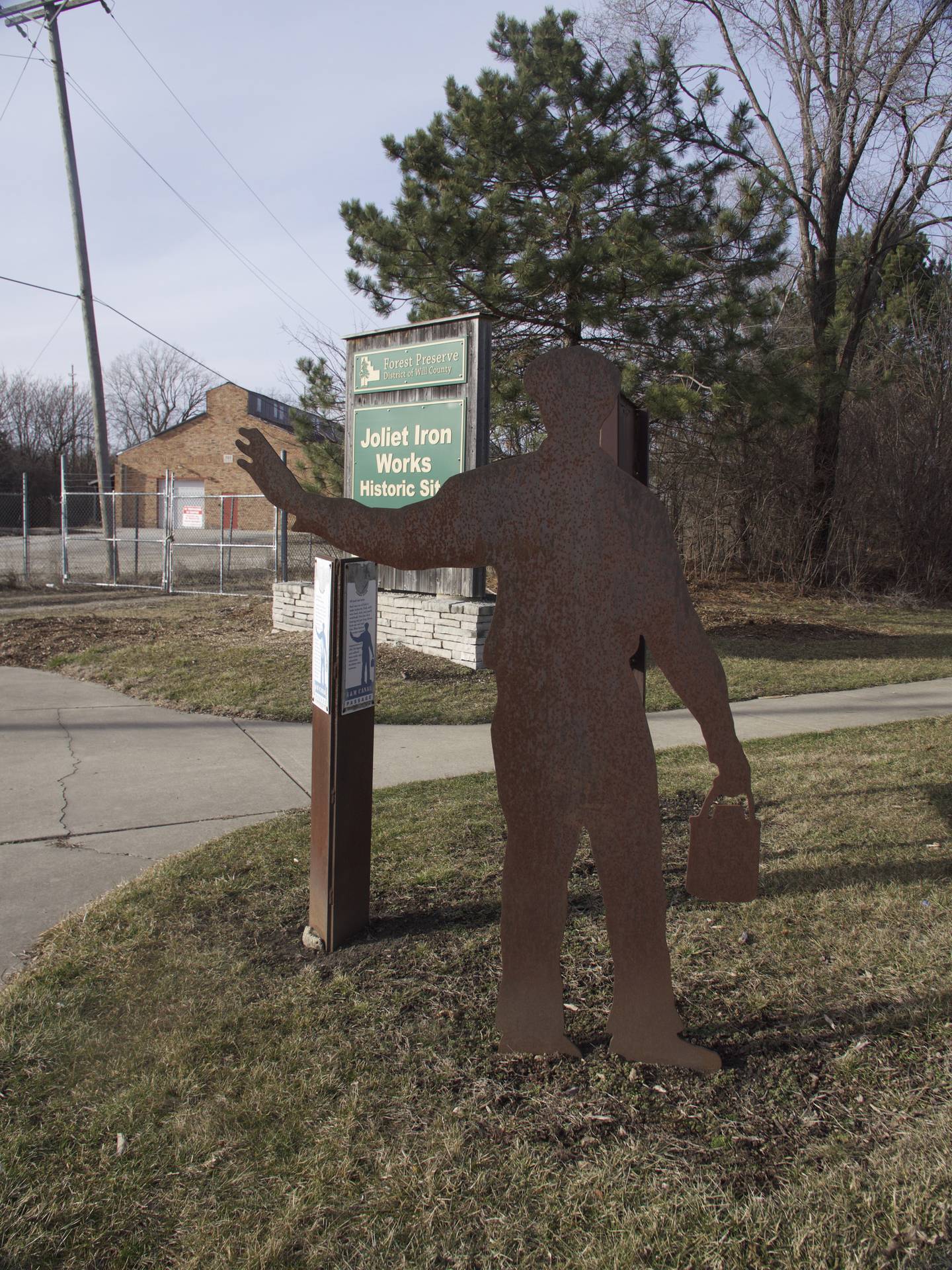 Walter Olin, Steelworker - Wheeler and Woods streets
"Before people owned cars, or had easy access to public transportation, they often had to walk long distances to work. In the 1920s, Walter Olin rode his bicycle to his job at the Joliet Iron Works. In the winter months, he put chains on his bicycle's wheels, and bundled up in his warmest clothes for the long ride to the steel plant. In the late 1800s, bicycles became a popular means of transportation in Joliet. Much like today, bicycle clubs planned social rides and races. By 1895, so many people were riding bicycles that the city passed an ordinance requiring the use of lamps on bicycles at night, and established a speed limit of 6 miles per hour."
Mary Setina, Candy Store Owner, 1873-1937 - Clay and Joliet streets
"Mary Setina, a Slovenian immigrant, came to Joliet in 1903. She lived in the St. Joseph's neighborhood, known as Slovenian Row, and owned a store there. Children on their way home from St. Joseph's school stopped in the store, pennies in hand, to buy candy, ice cream or school supplies from her. Men going home from the mills bought tobacco at the store."
A People Palace - Across from 102 N. Chicago St.
"In the 1920s, the six Rubens brothers began plans for the Rialto Theatre. It was to be a "Palace for the people." Joliet was at the peak of its industrial might when the theater opened in 1926. A few years later, during the Great Depression, entertainers here brought smiles to those seeking to escape their economic worries."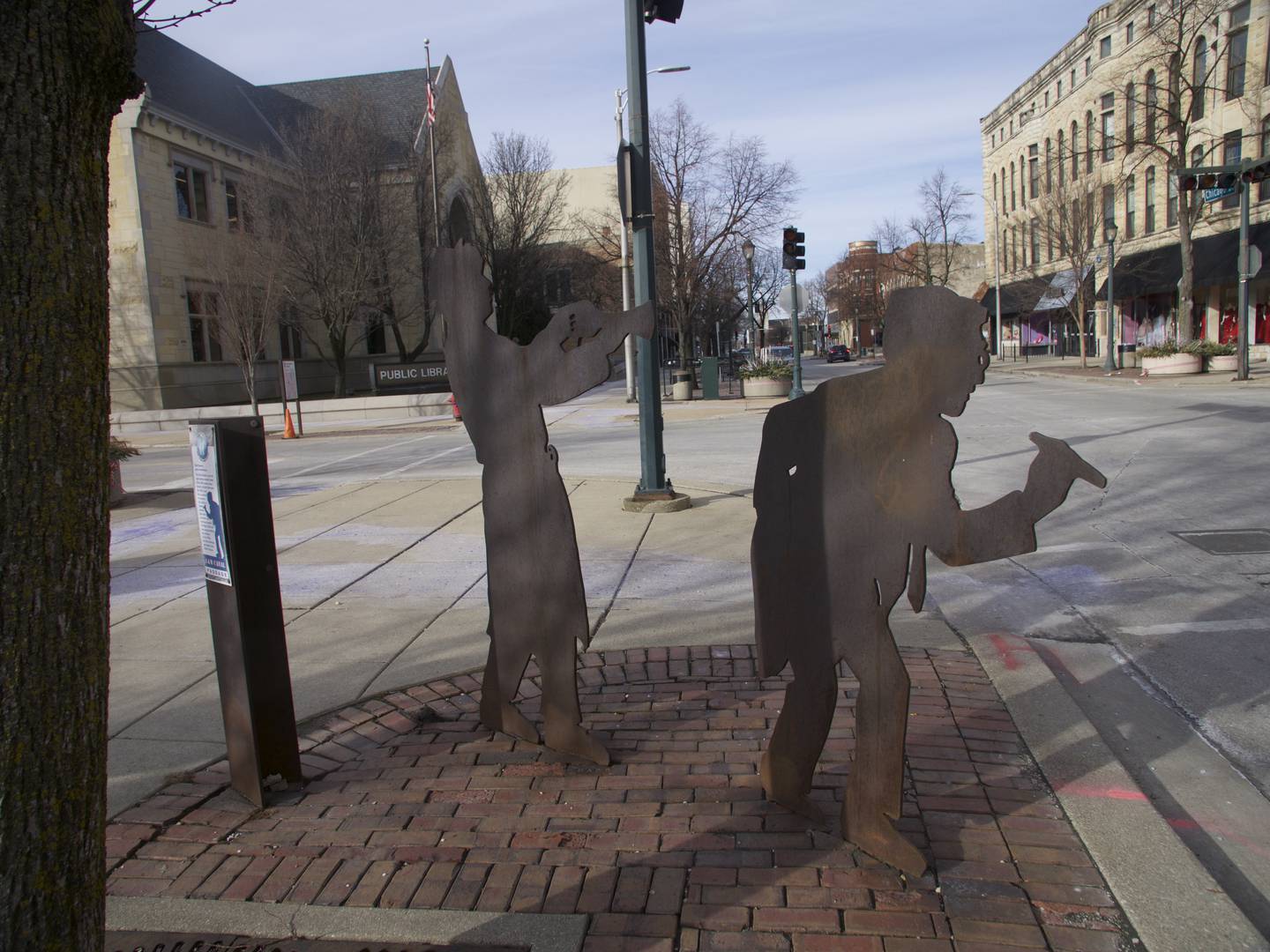 Harpo and Groucho Marx, Entertainers - Clinton and Chicago streets
"Bad farmers, great entertainers – the Marx Brothers, one of the most famous comedy teams of the 20th century, once owned a chicken farm near the I&M Canal. But, according to Groucho, they failed as farmers because they spent too much time watching baseball at Wrigley Field and not enough minding the chickens. In the 1930s, the Marx Brothers performed at the Rialto Theatre."
George Kiser, Iron Works Laborer - Columbia and Scott streets
"George Kiser moved to Joliet from Missouri in the early 1900s. An early African American laborer at the Joliet Iron Works, Kiser usually worked 12 hours a day in noisy, hot and dangerous conditions. The mill employed workers from all over the world. Three-quarters of the workers were migrants from the South, like Kiser, but were joined by immigrants from Poland, Sweden, Germany and many other nations."
To discover more silhouette statues near Route 66, visit: iandmcanal.org/experiences/silhouette-tour.
https://www.thefirsthundredmiles.com/2023/02/24/history-comes-alive-in-downtown-joliet/