Many classic roadside attractions spring to mind when you think of Route 66. From novelty motels to towering fiberglass giants, there are no shortage of fun and nostalgic photo-ops along America's Mother Road. On Jan. 20, a new larger-than-life attraction entered the pantheon of iconic Route 66 imagery – the Illinois Rock & Roll Museum's GIGANTAR.
Measuring an impressive 24 feet tall and 10 feet wide, this handcrafted sculpture, mounted to the exterior of 9 W. Cass St. in Joliet, depicts an enormous electric guitar, a symbol of all the exciting exhibits and music memorabilia you'll be able to see inside the museum as it nears its first phase of opening in 2023.
"GIGANTAR will be the museum's icon," said Ron Romero, Executive Director of the Illinois Rock & Roll Museum. "We talked about commissioning a sign like this from day one; it just felt like a great fit for the museum."
GIGANTAR is part of the $1.5 million IL DCEO Route 66 Grant that Heritage Corridor Destinations was awarded in 2022. The grant program was open to Illinois' Certified Convention and Visitors Bureaus and funding will develop or enhance sites along Route 66, while prioritizing projects focused on future transportation and tourism trends such as electric vehicles.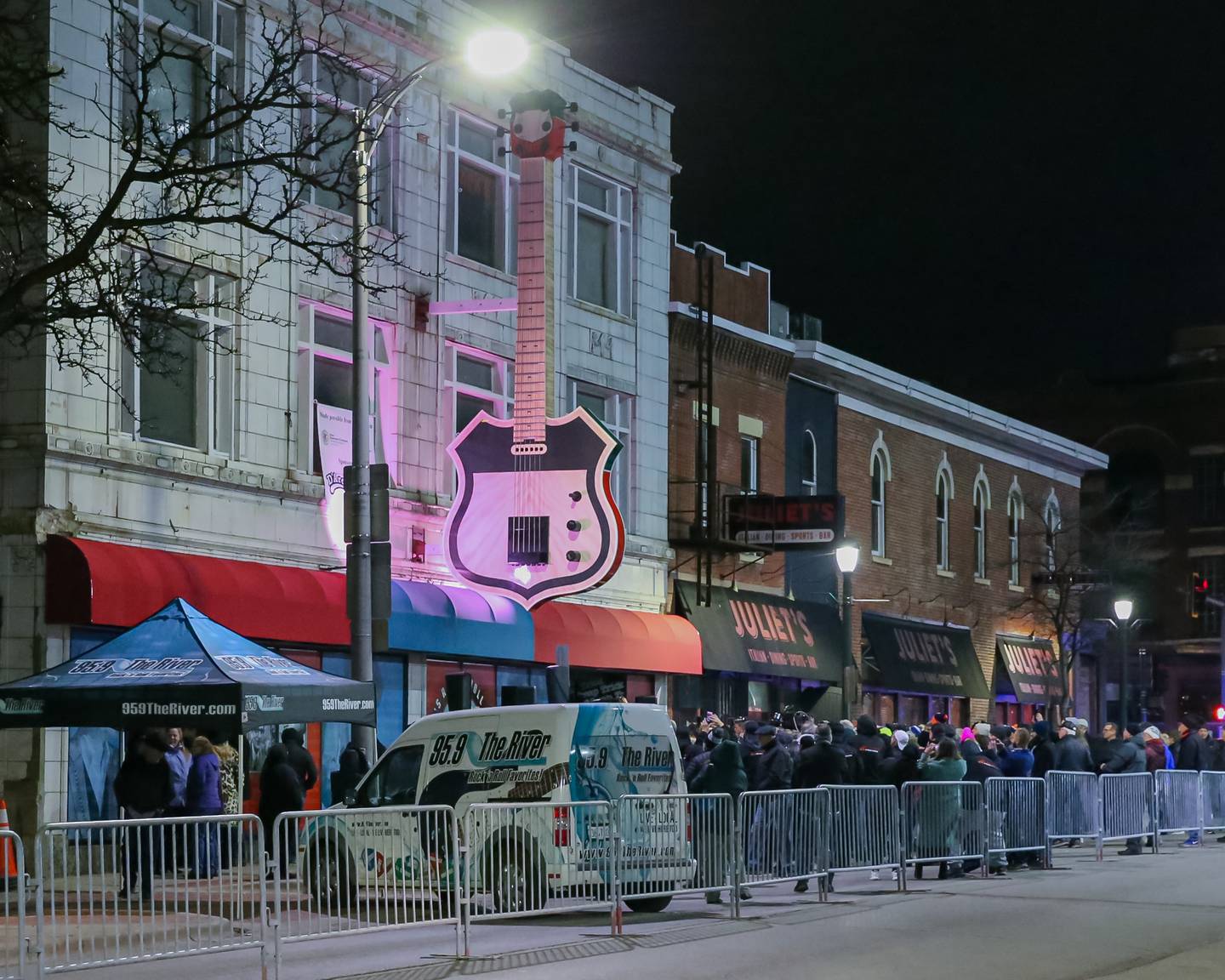 "As we near closer to the centennial anniversary of Route 66 in 2026, I'm excited to see our projects funded by the IL DCEO Route 66 grant program come to fruition," said Bob Navarro, President/CEO of the Heritage Corridor. "GIGANTAR is one of the iconic photo op attractions we're bringing to The First Hundred Miles, a wonderful sign of Joliet's commitment to historic preservation and tourism. In addition to GIGANTAR, this grant has funded the creation of a new Route 66 Welcome Center in Joliet, EV stations in both Wilmington and Pontiac, and a series of Route 66 photo ops at popular attractions along The First Hundred Miles."
To mark the route's 100th anniversary, the Heritage Corridor worked with the Illinois Route 66 Scenic Byway, Choose Chicago, Visit Springfield, and Great Rivers and Routes Tourism Bureau to develop an integrated statewide marketing campaign, exciting new projects and enhancements to existing attractions that set the stage for an incredible journey along all 300 miles of the road within Illinois. These initiatives will elevate the Illinois Route 66 experience for tourists from all over the world, enabling them to take epic road trips within the state for years to come.
GIGANTAR, which features a guitar body shaped like a classic Route 66 seal, was crafted by noted artist Shannon MacDonald. Known for her lifelike paintings of musicians and giant-sized artworks, MacDonald created in her New Jersey studio what is believed to be the single largest handmade guitar sculpture of all time.
"I am proud to bring this amazing sculpture to life," Shannon MacDonald said. "From New Jersey to Joliet, everyone involved has worked very hard."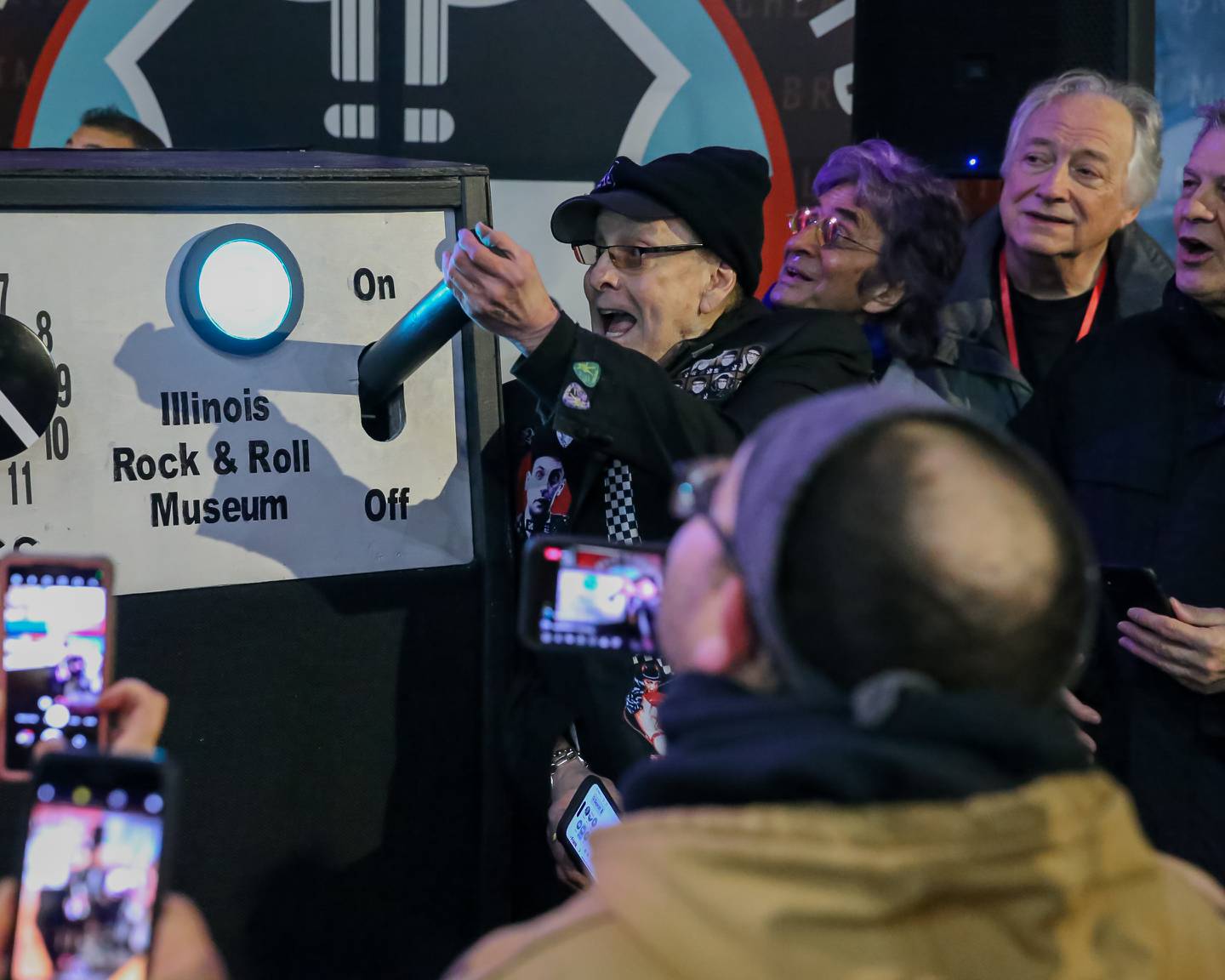 GIGANTAR took the long voyage from New Jersey to Joliet with the help of transportation loaned by Legacy Express Trucking and additional help from Old National Bank, D'Arcy Buick GMC, US Signs and Harrah's Joliet Casino and Hotel. The convoy left the interstate system in Bloomington and hopped on Old U.S. Route 66, where the guitar sculpture proceeded to make photo-op stops at several popular attractions along The First Hundred Miles.
"We had a great team bringing GIGANTAR to its home in Joliet – so many people and organizations volunteered their time and resources to make this possible, it's really indicative of the support we get from the community," Romero said. "There's a renaissance happening in downtown Joliet and a new appreciation for the historical importance of Route 66. GIGANTAR will be a beacon of that."
Within just a few days of its arrival, GIGANTAR had been mounted on the Illinois Rock & Roll Museum, and a grand lighting ceremony was held Jan. 20, led by a cavalcade of Illinois rock legends, including Rick Nielsen of Cheap Trick, and Jim Peterik, founding member of Survivor and The Ides of March.
To see GIGANTAR in person, chart a course for 9 W. Cass St. in Joliet. The Joliet Rock & Roll Museum is expected to open its first gallery and gift s
https://www.thefirsthundredmiles.com/2023/01/27/meet-gigantar-route-66s-new-roadside-attraction/