As you travel The First Hundred Miles of Route 66 from Chicago to Pontiac, you'll spot countless depictions of one of the nation's most iconic pieces of graphic design: the Route 66 shield. Its stark simplicity has captivated travelers for nearly a century – making it the ultimate photo op to commemorate your Route 66 journey. Here's a look at some of the best (and larger-than-life) photo-op shields you'll find along The Mother Road.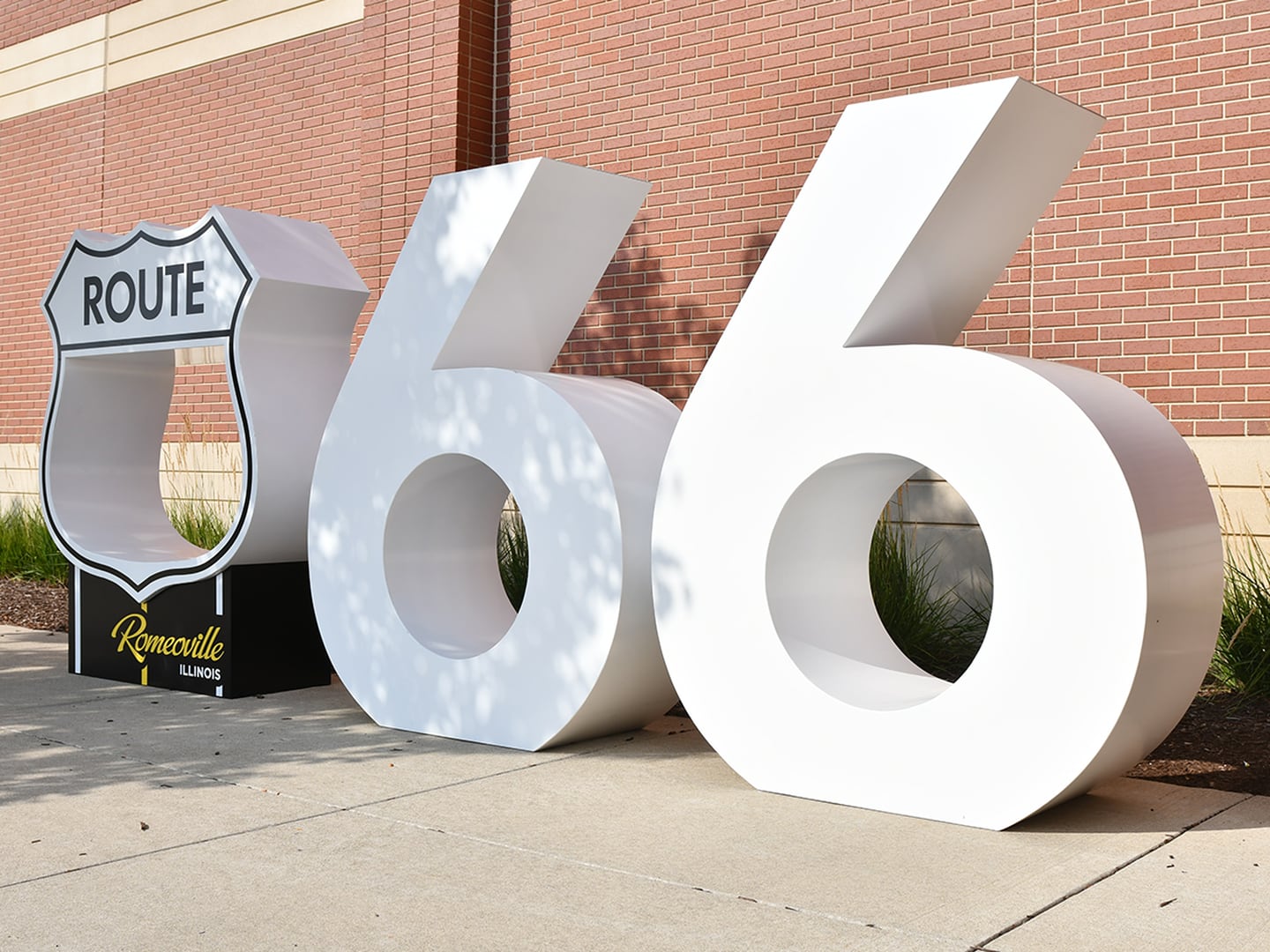 3D Route 66 Shield Sculptures
Multiple locations along The First Hundred Miles
One of the most exciting new photo-op hunts you'll find along the modern Mother Road is Heritage Corridor Destinations' newly added 3D Route 66 Shield Sculptures. These enormous 3D metal sculptures have been placed in popular Route 66 towns running from Chicago to Pontiac, creating a massive chain of selfie spots celebrating The First Hundred Miles. Each sign features an open shield for you to pose in, underneath which you'll find the name of the Route 66 town you're visiting. Next to that, a 5-foot tall "66″ gives kids a spot to pose behind. Whether you visit one or all of these enormous new Route 66 signs, you'll be treated to a whimsical and convenient new photo op that honors the legacy and classic design of 66.
Locations:
Burr Ridge: 15W400 Harvester Drive
Lockport: 1327 S. State St.
Romeoville: 55 Phelps Ave.
Joliet: 204 N. Ottawa St.
Dwight: West Waupansie Street
Gardner: 128 Depot St.
Pontiac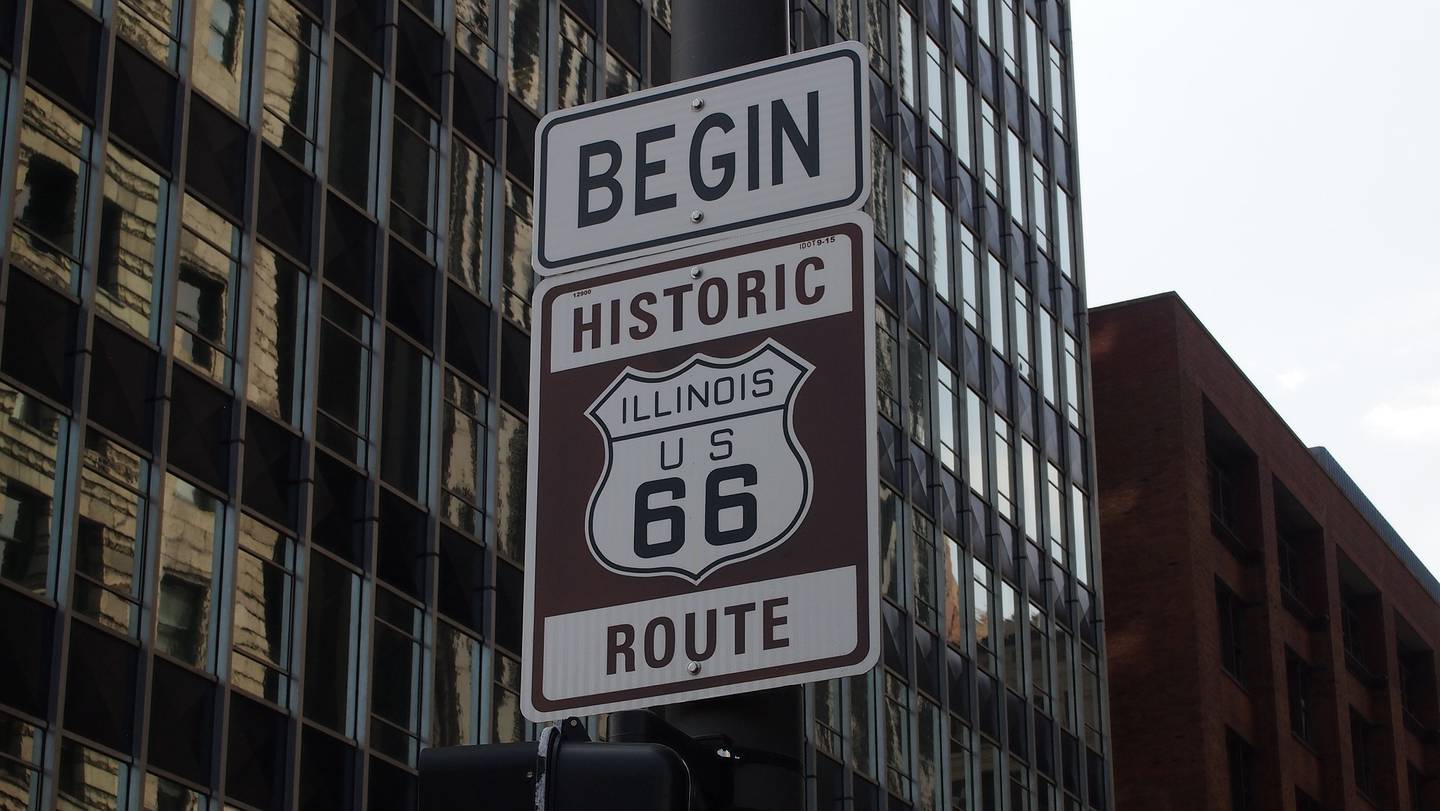 Route 66 Starting Sign
78-79 E. Adams St., Chicago
There is no better way to kick off your road trip than by snagging a photo with the official Route 66 starting sign in downtown Chicago. You will know you have found the right place when you spot the iconic brown "Route 66″ signpost, featuring an additional sign below it that simply states "BEGIN." This marker is conveniently located across the street from The Art Institute of Chicago, and just a short walk from Millennium Park. This essential photo opportunity is a must-visit attraction for anyone beginning their cross-country journey in downtown Chicago.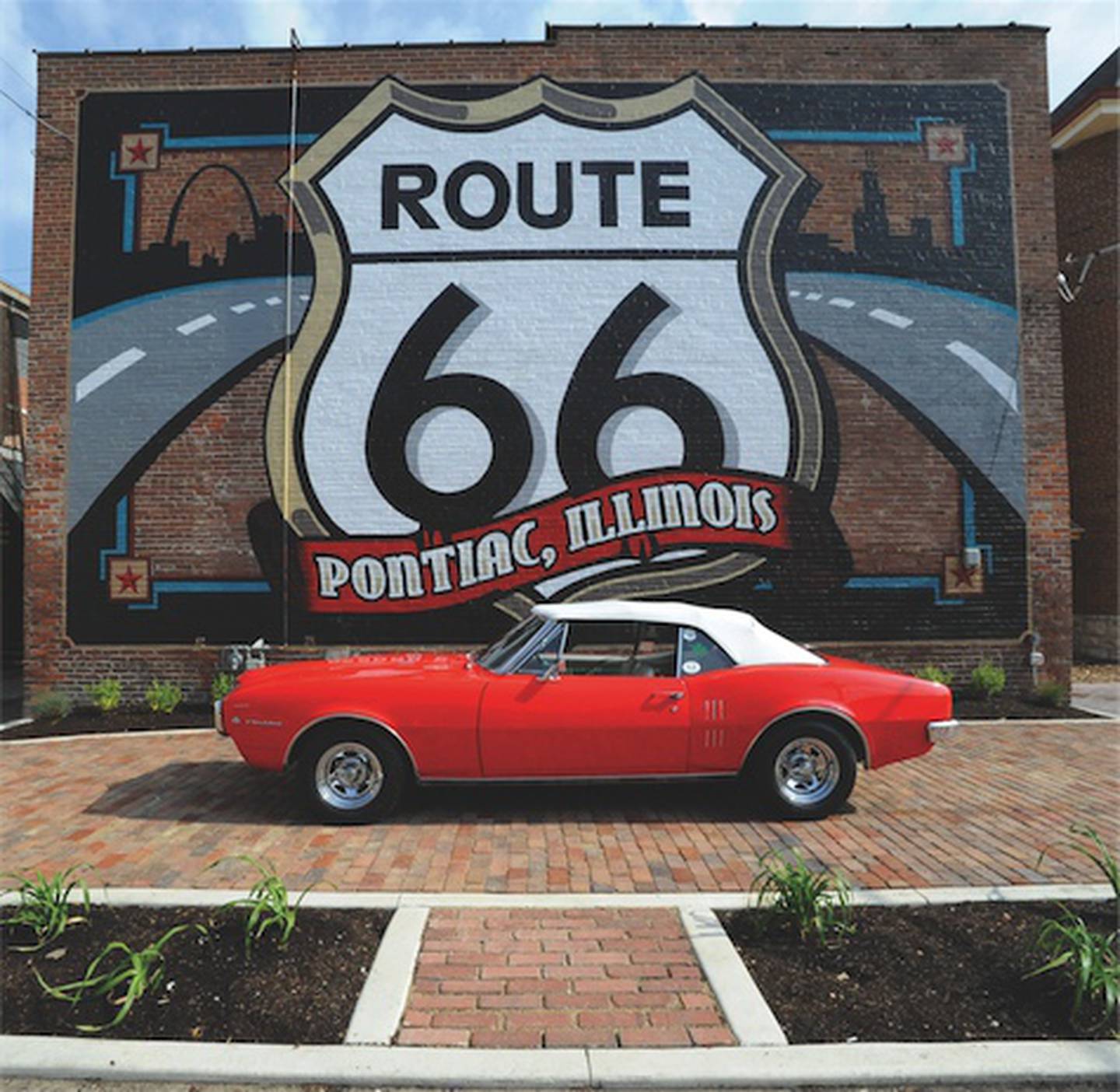 World's Largest Route 66 Shield
100 W. Howard St., Pontiac
Dubbed the "Quintessential Route 66 Photo Op," this outdoor mural is known as the largest Route 66 Shield in the world, aptly painted on the back of the Route 66 Museum in Pontiac. Created by Diaz Sign Art in 2007, the signage has become a huge tourist attraction in its own right, and is an extremely popular photo-op for visitors and Route 66 travelers. You can even submit your photo at IL66assoc.org to join a growing archive of people who have stopped at the iconic modern mural.